MY SPOTTED WONDER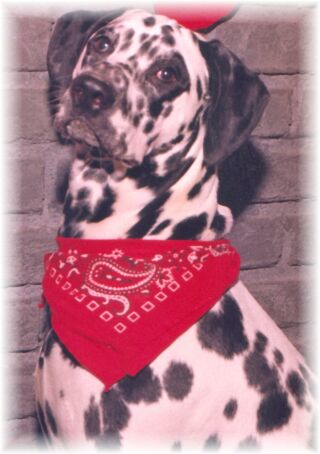 "Abbey "
May 5, 1991 ---- Apr 22, 2000
Dalmatian
" Squire Abner Doubleday "
This journey begins at a breeders house
where I sat on the floor with
3 little spotted pups crawling all over me.
My husband and I were there
to pick out our special pup and the decision was a hard one,
as all 3 of them were
cute as could be. I could not decide,
then finally my husband said "Lets take him, He seems the most active".
Well those were the most understated word spoken !!
From the time we brought Abbey home life was
never the same. Activity was at the top on his list of things to do.
Never stopped for anything. Constant motion. We had 2 cats, the older of the
2 seemed to accept this little ball of energy,
but the other hid in the back bedroom for at least
the first 6 months after
we got Abbey.
Finally Tiger ventured out of that bedroom one day
long enough to be backed into
a corner by Abbey and lash out
to put a claw mark right in Abbey's eye.
That was the first of many trips to the Vet.
They did a laser surgery and took
the inner eyelid and stitched it up
over the eye as a patch. This still did not slow this pup down.
After healing and the stitch taken out,
he once again looked like a normal dog rather than some kind of alien..
He always had that famous Dalmatian smile.
He had 2 golden retriever pals that lived next door,
these 3 dogs grew up as constant companions.
He loved playing with them, although
I think sometimes he was a little too active for them.
Even though they were all 3 males there never was a fight.
Many nights they ate side by side with never even a grumble.
But then Abbey never growled or grumbled at anything.
He was very vocal, and sometimes barked just to be barking.
Boy do I miss that bark now.
5 years ago we moved from the subdivision,
to a new house on 6 acres.
Abbey was in his glory with all of the new things
to explore and all the space to run, and burn off that Dalmatian energy.
He missed his golden pals,
but adjusted to the new place quite easy.
After all it was a whole new adventure..
after being here
about 6 months some how a little black and tan pup
found its way to our front door in the middle of a bad storm.
This pup was scarred, wet and hungry.
I took her down and put her
into the garage not wanting to expose
Abbey to anything this pup may or may not have.
After attemps to find this pups owner, which we never did, she became ours.
Or should I say she became ABBEYS.. The excitement on the day that
these 2 were first introduced was at a all time high..
We named her Mcgwire, as this was during
the time of Mark Mcgwires home run chase.
Abbey was very gentle with this pup.
And a very good teacher, then I think
the roles reversed and as Mcgwire grew she ruled the roost..
I know she misses her big brother.
I think what I miss most of all is the cuddle time .
He was ALWAYS leaning up
against you or laying on your feet.
Always at your side.
Very much a people dog.
Didn't want to go outside and
just sit on the deck, unless you were there too.
I will never sit
in a chaise lounge lawn chair again the same, as he had to
be right there, crushed up against me, between my legs.
We used to take
him to the river or swimming hole
and take the chaise lounge
lawn chair and sit it right down in the water and
after he was tired of swimming,
he would come sit there on the chair with you.
So I guess he thought it was suppose to be
that way even if the chair wasn't in any water.
He wouldn't get up on it by himself , but as soon as he
seen you head for it he was right there.
This is only a small part of the 8+ years we spent with our spotted boy.
He sure will be missed.
Kidney failure was the final trip to the vet. Even though it all
happened so suddenly,
4 days to be exact, they say chronic kidney failure
can go on for years undetected,
until it is too late..
He will always be
My Spotted Wonder for ever.
We love you Squire Abner Doubleday !!