TIGER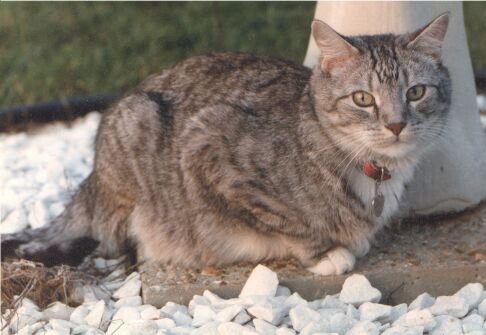 Our grey tiger striped kitty came to us from a family
that could no longer keep him,he was 7 or 8 months old at that time.
I don't remember what they called him, but we named him TIGER..
We already had another cat, Smokey, and I was concerned if the two
of them would get along..
Well after a few tussels they became best of buddies..
Tiger was a very loving cat, different than Smokey, Tiger wanted to be petted
and loved and every time you held him he would "Knead" some where on you..
He had his own little personality, unlike any other cat that I ever knew..
I was so glad that he came to live with us and we were able to share our
lives with him.. He had some funny little quirks also..
He did NOT like me to sing, He actually would put his paw over my mouth
if I tried to sing while I was holding him..and he was a climber..
he would climb up the poles on the carport at our old house and
walk on the roof rafters, sometimes he would get into a predicament
where he would not be as close as he thought he was to the pole when
he was ready to get down and just hang there from the rafters..
Many times we got a ladder to rescue him.. He always was a picky
eater, so many days it looked like a smorgasbord here at home as I
would try many different kinds of food to try to find what ever he wanted..
He spent time at the vets office when he was younger, as he became diabetic
and they had trouble regulating his insulin dose..
He hated the vet office,my sweet loving kitty became a actual TIGER at
that animal hospital.. I think he liked the vet and the assistants,
just hated the cage and the hospital itself...
After regulating his insulin dose, I had to inject him every morning
after checking his urine..
How do you check a cats urine you ask.. well he was easy..
when I would see him head for the litter box, I would follow him
with an empty plastic film container, and he would go into it......
I could not administer the insulin if his test was negative and
after a while he seemed to be negative alot.. So back to the dreaded vet
and he was then discovered to have his pancreas working once again
and no longer needed the daily shots..
Now my vet had only heard of this happening before, but never
had seen it himself, until TIGER...He was amazed !!
Tiger did not like our Dalmatian Abbey, when we got Abbey as a pup..
Tiger hid from him and us for months....But then he mellowed out
and slowly started to come around Abbey and in Later years
they were the best of friends... Snuggled up together almost ever night..
Right now they are together in heaven, as Tiger passed on just 5 days
after Abbey in April...My Tiger gave me much love and many memories
and I am oh so glad that the other family could not keep him,
and we were able to spend 22 years with this striped boy...
He loved riding in the car and went everywhere with us..
he was especially fond of drive-thru's.. The people at the window would make
over him and he just ate that up.. we moved to a new house 5 years ago,
and he just loved the new place.. with all the new places to explore..
He liked being outside, but we only allowed this when we
were with him, either at the old house or here..
He was an indoor kitty and was happy and entertaining for
many a year...As the years went on he became less active and got skinnier..
but always he was a lover.. Even at the end, he died peacefully in my arms
at home on the 27 th of April, 2000.. he did not suffer and I thank God for that..
I miss my stripped boy, and it sure feels funny after all these years to
go into an grocery store and NOT buy cat food..
But I know he is at peace and am ever so grateful that he did not have
to go back to the vet for that cross over to rainbow bridge..
We love you TIGER..